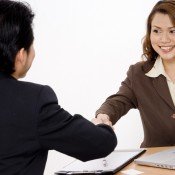 Audio clip: Adobe Flash Player (version 9 or above) is required to play this audio clip. Download the latest version here. You also need to have JavaScript enabled in your browser.
Flight Attendant Interviews
Aim
Practice English skills in an aviation context
Learn some interview skills and gain confidence
Have fun!
Do you know anyone who breezes through interviews without a hint of nervousness? Wouldn't that be great? Unfortunately, it's rare! Most of us get nervous just thinking about it, and need all the help we can get. For anyone planning to attend cabin crew interviews, some tailored advice follows.
4 tips to a successful cabin crew interview